Advertisement in popular networks such as Facebook Ads, Bing Ads as well as our beloved Google Adwords isn't cheap! So you are spending a lot of money on advertisement with different keywords or in different networks, How do you manage and optimize the outcome?
We have provided campaign tracking, which allow you to know which of your keywords are getting best outcome among different ad networks. You can use this campaign tracking for everything else, but now we are going to have a look at it from Advertisement point of view.
Fortunately, All ad networks have a decent campaign Conversion tracking built-in. However, I can be very time consuming to open them all separately and have a look at figures and trying to find out what is actually going on! Some ad networks don't even have Conversion tracking.
In Hitsteps, You can define your desired Goals pages. Set a default goal value (or you can modify goal value in real-time using javascript) and then connect that Goal to a Campaign landing page, It is that simple!
Once you have configured it, you can monitor all of your campaigns in real time.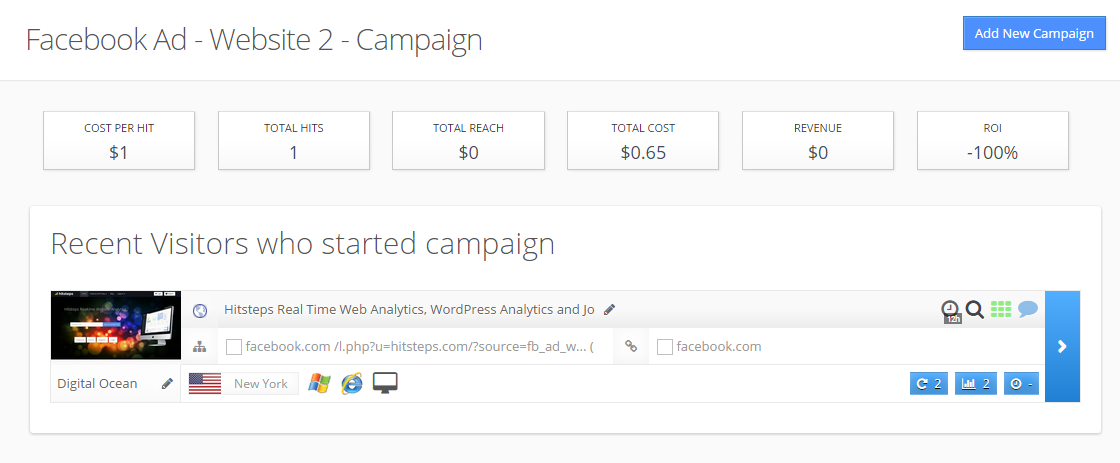 It doesn't end there, you can see list of visitors who just landed on your campaign, but never made it to goal page. You can also see list of visitors who successfully made it to goal page.
It allows you to see list of your campaigns returns on investments (ROI) all in one page.

Google Adwords and most other ads networks, doesn't provide it real-time, but we do it in real-time. It can be very addictive, we have warned you!
Get your hitsteps account and start figuring out what is really happening with your ads!